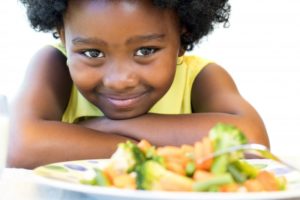 Besides sunshine, hot weather, and long days, summer is known for its tasty treats. From hot dogs and hamburgers to fresh fruits, this season comes with a whole host of snacks. However, not every summer food is as healthy as it seems. Some of these most well-known snacks are actually bad for your child's teeth. To help you make the best decision when it comes to feeding your little one, a dentist for children in Fitchburg discusses some of the best and worst summer snacks for your child's oral health.
Have Them Eat This…
Here are some foods that can improve the health of your child's budding smile:
Cheese. Dairy products like cheese are full of calcium and protein, both of which strengthen tooth enamel and fight cavities.
Leafy greens. Veggies like lettuce, broccoli, kale, or spinach contain plenty of vitamins and minerals, such as calcium.
Apples and carrots. Both of these fruits are high in fiber, promoting healthy digestion. Because they're also crunchy, your son or daughter will produce more saliva while eating them, which naturally cleans their teeth.
Smoothies. These cold treats can be a nice way to cool down on hot days. To keep them from getting too sugary, use whole fruit, calcium-rich yogurt or milk, and maybe some spinach when making them.
Lean meats. At your next family barbecue, grill up some lean meats that contain lots of phosphorous, which helps protect little teeth against decay.
Water. While not technically a snack, water is a much more mouth-healthy alternative to the fruit juices and energy drinks that become popular this time of year. If your child needs a little help getting enough water, try using low-sugar flavoring.
…Not That
Many summer snacks aren't that great for your little one's teeth. Some items to avoid include:
Corn on the cob. Although corn has plenty of nutrients like fiber and vitamin C, pieces can easily get stuck in your child's teeth. Make sure they floss after enjoying this barbecue favorite.
Condiments. These often-overlooked add-ons can be more sugary or acidic than you might think, which can wear down enamel and leave your child at risk for cavities. Use condiments like salad dressing, barbecue sauce, and ketchup sparingly.
Soda. Even if your son or daughter drinks sugar-free diet sodas, they're still bathing their teeth in harmful acid. Switch it out for sparkling water if they're craving something fizzy.
This summer, help your child keep their smile bright by serving mouth-healthy foods. For more tips on how to maintain your little one's oral health, contact your dentist for children in Fitchburg.
About the Author
Dr. Derek Leung is a Board-Certified pediatric dentist at Simply Orthodontics & Pediatric Dentistry in Fitchburg, MA. He is a proud member of the American Dental Association, the American Academy of Pediatric Dentistry, and the Massachusetts Pediatric Dental Association. He loves working with children and helping their smiles grow up healthy. To learn more about how you can keep your child's diet mouth-healthy, visit Dr. Leung's website.