Dentistry for Children – Fitchburg, MA
Dedicated & Gentle Dental Care For Growing Patients
At Simply Pediatric Dentistry & Orthodontics, our dentists love working closely with children and helping them develop solid habits that will serve their smiles well for life. This ongoing care is especially important when your loved one starts attending school for the first time and suddenly has a whole new world of friends, activities, and priorities outside of the home that may take their attention away from diligent brushing and flossing. If it's been more than six months since their last visit, be sure to contact us today in Fitchburg!
Why Choose Us for Dentistry for Children?
Comprehensive Services Under 1 Roof
Friendly & Highly Experienced Pediatric Team
State-of-the-Art Technology for Added Patient Comfort
Dental Checkups & Teeth Cleanings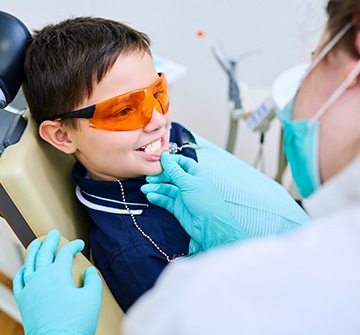 Even if your son or daughter does an A+ job of taking care of their growing smile at home, dental problems can still develop in sneaky ways. That's why scheduling professional checkups and cleanings for them twice each calendar year is so important! Our pediatric dentists will take the time to fully understand every piece of their oral health, from the teeth to the gums to the jaw and beyond, and then make personalized treatment recommendations (if needed) based on their findings. Additionally, an in-depth hygiene session will remove decay-causing plaque and tartar from the mouth and leave their teeth feeling nicely polished.
Dental Sealants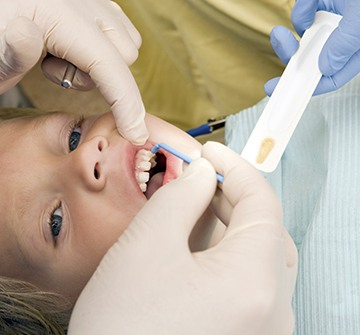 Here's an interesting and alarming factoid: four out of five cavities in young patients occur on the chewing surfaces of their premolars and molars (the back teeth). This is because these areas of the mouth are hard for little arms to reach, especially if your son or daughter is still learning how to brush and floss properly. Thankfully, dental sealants are available to lend a helping hand! The application process is fast and easy – we'll paint a thin layer of this tough, plastic-based substance onto the tooth and then harden it in place so that it works like a shield, blocking pesky food particles and decay-causing bacteria.
Fluoride Treatment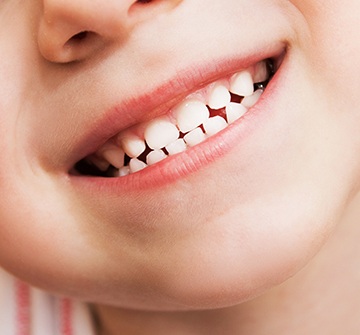 Fluoride appears in most community water supplies, toothpastes, mouthwashes, and even certain foods – which is good news for your child! Regular, safe exposure to fluoride has been demonstrated through countless studies to positively influence oral health and result in fewer instances of cavities over time in younger patients. If an extra boost of protection is needed, our pediatric dentists can provide a quick and easy fluoride application during their next checkup and cleaning.
Tooth-Colored Fillings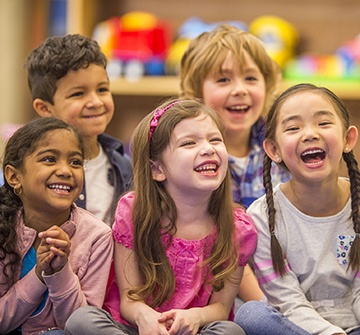 Unfortunately, over 90% of the population will experience one or more cavities throughout their lives, many of which take place in the early years. While the Simply Pediatric Dentistry & Orthodontics team will always work hard to help your child prevent these pesky issues, we offer tooth-colored fillings as a conservative and attractive solution for repairing the damage, too. They are made of a material known as composite resin, which provides a stronger and healthier bond with the enamel than traditional amalgam that can last for 10-15 years or even longer.
Zirconia Dental Crowns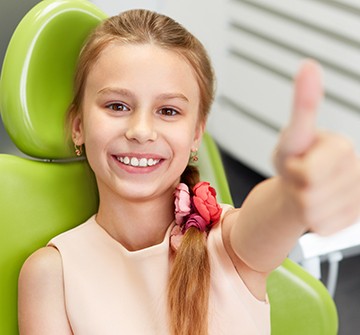 While most of our focus is on preventing decay and damage to the teeth, we do have an excellent restorative option should these problems ever arise. Zirconia crowns are designed to fit directly over a damaged tooth to protect the remaining natural structure as well as recreate its original strength and appearance. They are custom-made for each patient using a high quality ceramic material that is notably strong, durable, and can be perfectly color-matched to provide a natural-appearance. And, because they are metal-free, this also makes them ideal for little patients who might have certain allergies or sensitivities.
Safe Digital X-Rays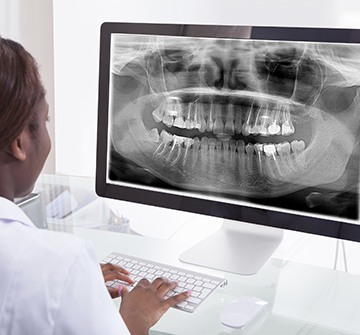 X-rays are an essential part of the dental care process – after all, there's a lot of information about your smile that the naked eye just can't see! Here in Fitchburg, our digital technology captures highly detailed images of the teeth and jaw and makes them available for viewing in seconds, no darkroom required. Better yet, it only produces very minimal radiation, which means your child will stay safe and comfortable throughout the experience.
Root Canals / Pulp Therapy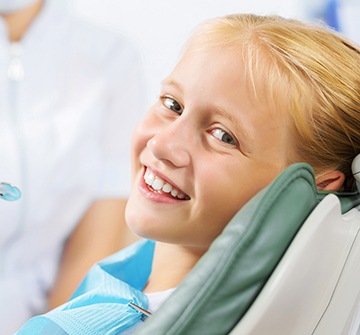 If your child is experiencing severe pain or sensitivity in a specific tooth, an advanced infection may be raging underneath its layers. Instead of immediately extracting it, though, our skilled pediatric dentists will recommend root canal therapy or pulp therapy as a worthwhile alternative that could help their smile stay complete. In most cases, pulp therapy is preferred over traditional treatment because the patient's teeth are still developing; instead of fully removing the pulp from within the tooth, we'll take care to preserve as much healthy structure as possible. Both primary ("baby") teeth and adult teeth can undergo this revitalizing type of care.
Non-Nutritive Habits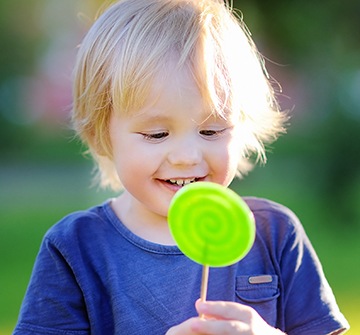 Once your child enters grade school, it's very likely that peer pressure will end any finger or thumb-sucking habits – but if this isn't the case, parents need to let our team know right away. By this age, non-nutritive habits can start to cause real, lasting harm to your son or daughter's jaw development and teeth, and we can provide guidance on how to encourage children to break the habit.
Emergency Kid's Dentistry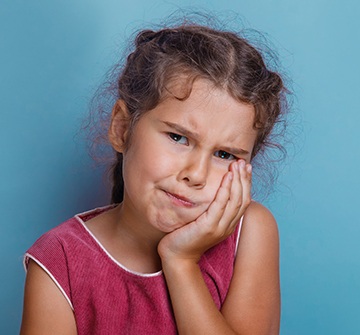 Dental emergencies can strike when a parent least expects them, whether your child is having a fun time on the playground or simply running down the stairs too fast at home. At Simply Pediatric Dentistry & Orthodontics, we ask that you contact our Fitchburg office right away for help with any serious injuries and/or oral pain. Our team members can provide first-aid assistance over the phone and also find a time in our schedule right away to provide urgent care.
Tooth Extractions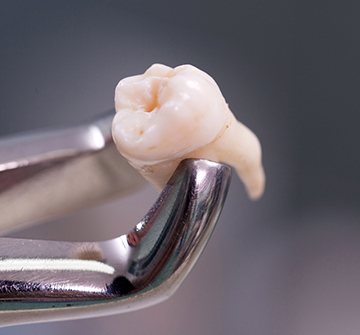 We sincerely hope to never have to remove a tooth (whether primary or adult) from your child's mouth before it's ready to fall out naturally, but sometimes circumstances arise where a professional extraction is necessary for their safety and wellbeing, such as:
When advanced tooth decay is present and can't be successfully treated with fillings or other restorative care
When one or more teeth have been seriously injured
When a stubborn "baby" tooth is preventing an adult tooth from properly erupting
When extra room needs to be created in the mouth for important orthodontic treatment
Sedation dentistry is available when needed to help make this procedure as smooth, safe, and comfortable as possible for young patients.
Athletic Mouthguards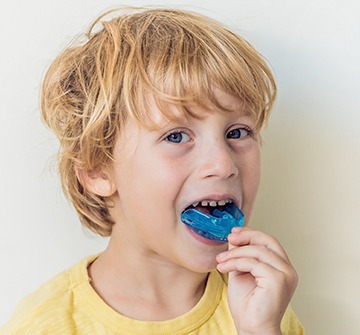 When your child gets their start as a burgeoning athlete, it's important to remember that their smile is just as much at risk for physical injury as their head and knees. That's why we strongly recommend asking our pediatric dentists about having a custom athletic mouthguard created. Unlike the "one size fits all" appliances you could find at the local sports store, these high-quality products are designed with your son or daughter's unique mouth in mind. They'll feel very comfortable, fit sturdily, and provide plenty of flexibility for easy breathing and speaking out on the court or field.