Invisalign Teen – Fitchburg, MA
Straightening Smiles Without the Metal
In today's image-conscious world, teenagers feel more pressure than ever to maintain their appearance. So, when they're told they need orthodontic work, it's likely they will immediately associate those words with an image of themselves wearing a mouth full of metal. At Simply Orthodontics, Dr. Alkhoury understands this can be a devastating reality for some teens, which is why he is proud to offer Invisalign for teens in Fitchburg. This innovative system of clear aligner technology can shift their teeth or bite in the right direction without disrupting their daily appearance. If you think your teen could benefit from Invisalign Teen, give us a call today to schedule a consultation.
How Does Invisalign Teen Work?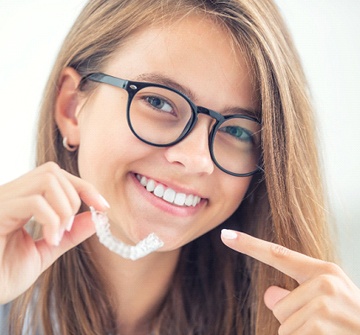 Invisalign Teen uses clear aligners that are much like traditional Invisalign trays; however, one of the major differences is with Invisalign Teen, they have a small, blue indicator toward the back of the aligner. As your teenager wears them, the blue dot will begin to fade. This will not only help our orthodontists to determine how well they are complying with treatment, but it will also help indicate when your teen should switch to the next aligner set in the series.
In order for the process to work and for there to be no delays in treatment, Invisalign Teen should be worn 20-22 hours a day. The only time the aligners should be removed is when your teen is eating, drinking, or cleaning their trays.
Before you know it, you and your teen will notice a significant difference in the look of their smile, achieving results much quicker than with traditional metal braces.
Indications for Invisalign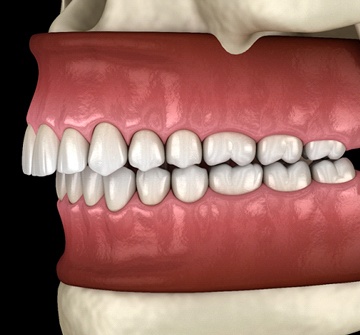 Whether your teen has crowded teeth, gaps between their teeth, or a serious overbite or underbite, Invisalign makes it possible to address all these issues.
Crowded Teeth
If your teen has difficulty brushing or flossing and are suffering from the effects caused by decay and disease, it may be that their teeth are sitting too close together. Invisalign clear aligners can move their teeth to create just enough space that the teeth look more aesthetically pleasing and will allow for effective brushing and flossing in the future.
Spaces Between Teeth
By gently moving teeth closer together, Invisalign can eliminate unnecessary space existing between teeth and bring your child's smile into proper alignment. This will prevent decay and disease from developing as a result of trapped food or bacteria.
Bite Alignment
Overbite, underbite, crossbite, and an open bite can all be remedied with Invisalign. Over the course of treatment, your teen's aligners will shift their teeth and mouth in a way that better aligns their top and lower jaw, reducing any possible jaw pain or excessive wear on their teeth.
Who is a Good Candidate?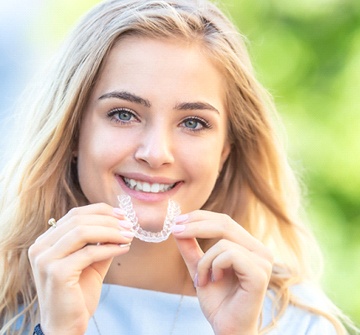 Invisalign Teen is a great option for orthodontic treatment if:
Your teenager has all of their adult teeth
They are suffering from crowded or gapped teeth, crooked teeth, or bite alignment problems
They are responsible enough to wear the aligners as instructed
During an initial consultation with Dr. Alkhoury or Dr. Babarinde, we will be able to examine your child's smile to determine the severity of their individual problem. Certain circumstances warrant traditional braces (i.e. jaw problems), but only your child's orthodontists will be able to give a definitive "yes" or "no" as to whether Invisalign Teen is right for them.
Differences Between Traditional Invisalign and Invisalign Teen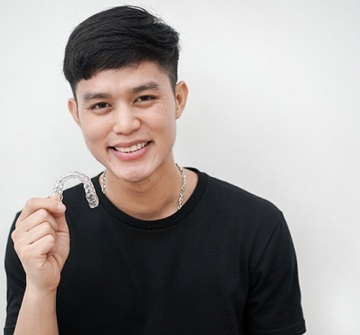 Although the aligners look very much the same, there are a few differences between traditional Invisalign and Invisalign Teen, such as:
Invisalign Teen has the ability to move your child's tooth roots as well as correct alignment problems
The aligners used for Invisalign Teen have small indicators on them. This helps your teen remember when to swap out their trays. Traditional Invisalign relies on the individual being responsible for remembering when to make the switch.
If your teen still has growing teeth, Invisalign Teen can be a great solution.
Cost of Invisalign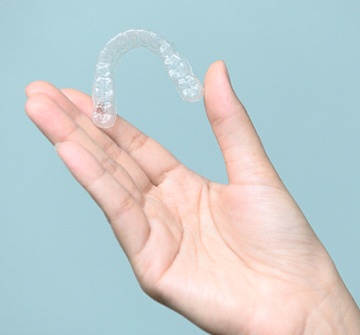 Invisalign treatment is different from every patient, so while it may cost a certain amount for one person, it is highly unlikely that it will be the same for your teen. The reason for this is that everyone requires different treatment plans that include:
The complexity of your teen's individual case
How many aligners they will need throughout treatment to achieve desired results
The retainer that is to be worn once Invisalign treatment is complete
Any pre-Invisalign dental work (i.e. tooth extraction, periodontal therapy)
It will be important for you and our team to discuss the overall cost of your teenager's treatment and ways to budget for their new and improved smile.
Need a Second Opinion?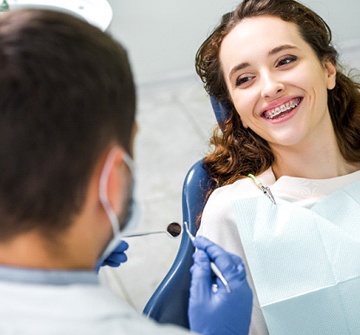 Did your teen's general dentist suggest braces? Before moving forward with treatment, it is important that a certified orthodontists examines your child's oral structure. Why? The reason is that an orthodontist has additional knowledge and training on aspects of orthodontic treatment that a general dentist does not, so even if their regular dentist believes Invisalign to be a great option to fix a large gap between your teenager's two front teeth, an orthodontist may suggest traditional braces to address such a complex issue.