Pediatric Dentist – Fitchburg, MA
Get to Know Dr. Azadeh Sajjadi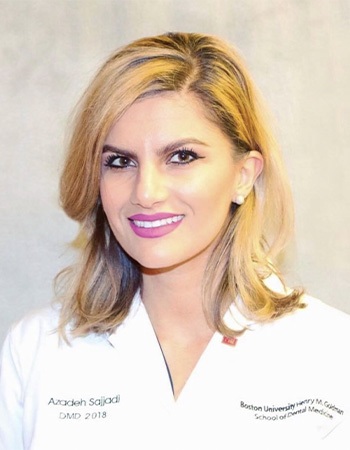 Dr. Azadeh Sajjadi (Dr. Azi for short) received her bachelor of science degree from the University of California, Irvine. She then moved to Massachusetts to attend Boston University for her Masters degree in Oral Health Sciences. She then graduated with high honors of Summa Cum Laude and received her Doctor of Dental Medicine degree in 2018. She developed a passion for pediatric dentistry while in dental school and decided to pursue her advanced training at Boston University. She completed her residency program in 2020 and received her Certificate of Advanced Graduate Studies in pediatric dentistry.
She is very enthusiastic about painting, makeup, and fashion, and enjoys CrossFit training. Dr. Sajjadi is also fluent in Farsi.
Her other interests outside of dentistry include traveling and hiking with her husband, also a dentist, and spending time with her Pomeranian dog, Simba.