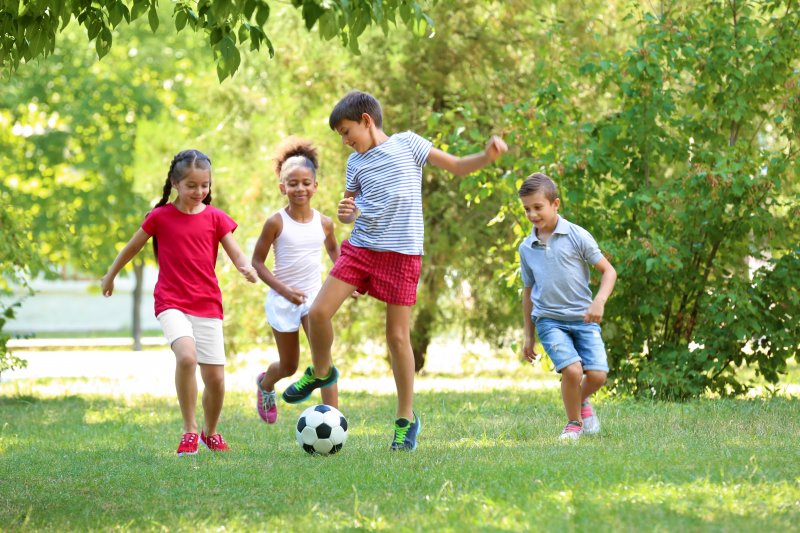 As a parent, there are few things worse than seeing your child get injured. So, when they knock out a tooth while sliding into home plate or bite down hard on their tongue during a tackle, it can mean a world of pain for both you and your little one. To prevent this from occurring, many sports necessitate protective gear to keep your child safe. However, all too often mouthguards aren't required, which leads to over 5 million knocked-out teeth each year! Read on for four reasons your child should use a mouthguard in Fitchburg and how your pediatric dentist can help!
4 Ways a Mouthguard Can Keep Your Child Safe
Enrolling your child in a sport can teach them the value of teamwork while also burning off some of that never-ending energy. However, keeping them safe in the process is a top priority. While helmets and kneepads can play a crucial role in preventing injuries, it is important to enforce the importance of mouthguards as well. After all, they can:
Avoid mouth-related injuries to your child's lips, tongue, and soft tissue.
Prevent chipped, cracked, or knocked-out teeth.
Reduce the severity of concussions by redistributing the force from the impact.
Provide protection from broken brackets for children who wear braces.
Does My Child Need a Mouthguard for Non-Contact Sports?
In short, the answer is a resounding yes! Although high-impact sports (like football and boxing) are known for their injuries, non-contact sports (like gymnastics and skateboarding) are prone to their share of accidents as well. In fact, the American Dental Association reported that athletes who played basketball suffered from more dental injuries than those who played football. Therefore, it is important that your child wears a mouthguard, even if it is not a required piece of equipment.
Which Mouthguard Should I Get For My Child?
While there are one-size-fits-all mouthguards at your local sporting goods store, they are no match for the protection your pediatric dentist in Fitchburg can provide with a custom one. After all, your child's dentist can create one that is individually designed for their specific needs. This not only ensures maximum protection, but it also provides optimal comfort so your child doesn't experience pain or discomfort (which will increase their likelihood of not wearing it at all).
As a parent, one of your most important roles is ensuring your child's safety. While accidents can happen during contact and non-contact sports alike, wearing a mouthguard can protect your child's smile from a multitude of injuries. By scheduling an appointment for a custom mouthguard, you can cheer them on from the sidelines knowing they are as protected as can be!
About the Practice
At Simply Orthodontics & Pediatric Dentistry, Dr. Alkhoury, Dr. Leung, and the entire team are united by their mission to take care of your child's smile from check-in to check-out. With both pediatric dentists and orthodontists on staff, your child can get all the dental services they need to keep their smiles beautiful and healthy. If your child needs a custom mouthguard, don't hesitate to visit their website or give them a call at 978-424-4255.