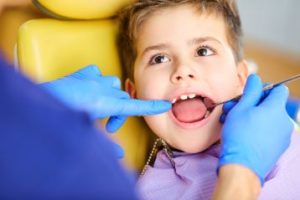 As a parent, there are countless events you have to coordinate in your child's life – school activities, athletics and birthday parties are just a few! But one thing many parents are unsure about is when to schedule visits with a children's dentist. And since an estimated 42% of children age 2-11 have tooth decay, preventive practices like good oral hygiene habits and regular dental care are crucial for your child's healthy smile. So when should you schedule that first dental visit – and when should children be seen after that? Keep reading below to find out!
When They Get Their First Tooth
According to The American Academy of Pediatric Dentistry, children should see a dentist for the first time within six months of getting their first tooth (or around their first birthday). The need to see a dentist at such an early age might surprise you, but there are multiple benefits:
It builds trust – When children start seeing a dentist early, it sets them up for a lifetime of positive experiences and helps them avoid the fear that prevents so many adults from getting the care they need.
Baby teeth are important – You may think baby teeth aren't important because they fall out, but children need a full set of healthy teeth to help them eat and speak properly as well as smile with confidence. Also, some of the baby teeth remain in the mouth until about age 12.
You start prevention early – To be effective, prevention must start early. It's so much easier to prevent cavities and other oral health problems than it is to treat them, especially in children.
Parent education – You'll have an opportunity to ask questions and will learn how to keep your child's teeth clean at home. You'll also get recommendations for toothbrushes, toothpaste, floss and other products.
And don't worry if you've missed this milestone – just schedule your child as soon as possible.
Between Ages 4-6
At this age, cavity prevention becomes more proactive. Children are ready for fluoride treatments and sealants on their first permanent back teeth, and will have X-rays taken to look for cavities.
In An Emergency
Despite your best intentions to avoid them, accidents still happen, especially during childhood. In a dental emergency, call a pediatric dentist for on-the-spot advice and to schedule the first available appointment.
Every 6 Months
As with everything, consistency is key, so schedule your children's checkups every six months. These visits will include preventive care and any specific treatment recommendations as necessary.
Also, a dentist will likely recommend a consultation with an orthodontist between ages 7-8 to have your child's jaw development and bite evaluated.
Great dental care at the right milestones is the best way to set your child up for having a healthy, beautiful smile as an adult. With these guidelines, you can be sure they get the dental care they need, when they need it most!
About the Author
Dr. Derek Leung is a pediatric dentist who provides outstanding dentistry for kids in a comfortable, fun setting. He and his staff know that regular dental care at every stage of childhood is the best way to help kids have a lifetime of great oral health. If you have any other questions about when to schedule your child, he can be reached via his website or at (978) 424-4255.