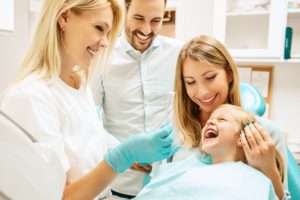 When your child was born or when their first tooth erupted, you probably weren't handed a guidebook full of answers on how to care for their oral health. That's alright! A pediatric dentist has all the training and experience needed to help you keep your little one's precious smile healthy as it grows. However, it's easy to get nervous about your baby's first dental visit if you don't know what to expect. Thankfully, knowing what this early checkup is all about can go a long way in making it a great appointment for both you and your little one! Read on as we go over everything you need to know about your baby's first dental checkup.
Great Oral Health Starts Early
The American Dental Association officially recommends that children get their first dental checkup by their first birthday. Many parents are surprised to hear this, thinking that their one-year-old is too young to have any need to visit a dentist. However, it's important to remember that oral health problems can begin to develop as soon as that first baby tooth appears! Waiting until your child has a toothache or cavity to bring them to the dentist is likely to be a stressful experience for you and your child. Your child will probably form a bad first impression of dental care, which could potentially influence how they view their oral health for the rest of their life! Furthermore, an early start to dental checkups can help prevent that cavity or toothache from developing in the first place. Starting routine dental checkups early in life is a great way to set your baby up for a lifetime of happy, healthy smiles!
Baby's First Dental Visit: What You Can Expect
You can expect your baby's first visit to be an easy one, although it will consist of several important components:
Introductions: First, your dentist and their team will take the time to introduce themselves to you and your baby and get to know you a little better.
Parent education: Your pediatric dentist can show you the best ways to clean your child's teeth, discuss diet and fluoride needs, and recommend children's dental care products.
Answering your questions: At any point during your visit, your pediatric dentist will be happy to answer any questions you may have so you can know exactly what's going on with your baby's oral health.
A visual inspection: They'll take a close look at your baby's teeth, gums, jaws, and their mouth overall to check on their development. If necessary, they may take digital dental X-rays.
A light cleaning: Sometimes, your pediatric dentist will gently remove any plaque or tartar buildup on your child's teeth and polish away any surface stains.
Making a plan for future oral healthcare: At the end of the appointment, they'll go over their findings with you and discuss your baby's current and future oral healthcare needs.
There are lots of great ways you can ensure your baby's smile is off to a healthy start, and one of the best is bringing them in for an early first checkup! Their first dental visit is a great first step on the road to life-long oral health.
About the Practice
At Simply Orthodontics & Pediatric Dentistry in Fitchburg, we go above and beyond to care for the unique oral healthcare needs of growing smiles. We have a team of specialists with years of experience working with kids, one of whom is a certified pediatric dentist with advanced training. We are pleased to offer the safest modern technology and techniques alongside a wide array of special services just for infants. To schedule your baby's first checkup, we can be contacted online or at (978) 424-4255.