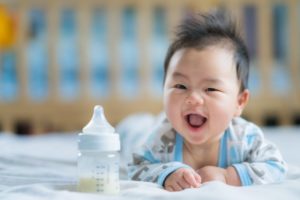 Did you know that according to the Centers for Disease Control and Prevention, the number one most common chronic illness in childhood is tooth decay? Unfortunately, from thinner enamel to lacking dental hygiene, there are plenty of factors that make children more prone to cavities than adults. Despite helping your child keep their pearly whites clean and healthy, you may be increasing their risk of cavities every day without realizing it! Here's everything you need to know about something called baby bottle tooth decay and what you can do to protect your little one's smile.
What Is Baby Bottle Tooth Decay?
Does your baby like to fall asleep while eating? It may be tempting to put them to bed with a bottle, but this simple habit is what leads to baby bottle tooth decay. If their bottle contains anything besides water, their baby teeth are being continuously washed with sugary liquids. Even "healthy" options like milk, formula and juice contain enough sugar to cause decay after prolonged exposure.
As your child sucks on their bottle, sugars pool around their teeth and gums. These sugars attract and feed bacteria in the mouth, which produces acids that quickly burn through the enamel of baby teeth. The more often your child drinks sugary beverages from their bottle, the higher their risk of developing baby bottle tooth decay.
Why Preventing Cavities in Baby Teeth Is Important
Many people are under the incorrect assumption that baby teeth aren't that important. However, even though these primary teeth will fall out eventually, it's essential for your child's oral development that they're kept healthy! Untreated tooth decay in baby teeth can lead to:
Painful toothaches
Serious dental infections
Lower self-confidence
Difficulty eating or speaking comfortably
Premature baby tooth loss, which can cause adult teeth to come in incorrectly
The Best Ways to Prevent Baby Bottle Tooth Decay
One reason that children are more prone to cavities is because the enamel on baby teeth is thinner than that on permanent teeth. Another reason is that it's easy for plaque and bacteria to accumulate on the teeth as children learn how to practice great oral hygiene. To help keep your child's precious smile safe as it grows, keep these tips in mind:
Don't put your child to bed or down for a nap with a bottle filled with anything besides water.
After bottle feeding, wipe their gums off with a damp, soft washcloth
Start brushing your child's teeth with a smear of toothpaste the size of a grain of rice as soon as their first tooth appears.
Encourage your little one to drink from a cup by their first birthday.
Make sure your child comes in for their first dental checkup before their first birthday or within six months of their first tooth erupting.
Even though tooth decay is incredibly common in children, there are plenty of ways you can help keep your little one's smile healthy. Talk to your pediatric dentist today for even more tips on preventing baby bottle tooth decay.
About the Practice
At Simply Orthodontics & Pediatric Dentistry, we're proud to offer comprehensive, convenient and state-of-the-art dentistry for the growing smiles of Fitchburg and the surrounding communities. We are passionate about helping infants, toddlers, kids and teens all achieve optimal oral health, which is why we recommend scheduling your little one's first checkup before their first birthday. While we use preventive services like fluoride treatments and dental sealants to help prevent tooth decay, we also offer tooth-colored fillings for safe and natural-looking cavity repair. To learn more, we can be contacted online or at (978) 424-4255.