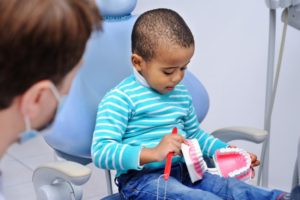 Are you gearing up for your child's first visit with their pediatric dentist in Fitchburg? You know your little one better than anybody, and sometimes they may get antsy when they're expected to wait or sit still. When you know what to expect for their first appointment, you can prepare them so everything runs more smoothly. Read on to learn what your dentist will do during the visit and some tips for a successful first dental checkup.
When Should Your Child Have Their First Dental Appointment?
The American Dental Association recommends taking your child to their first dentist appointment within six months of their first tooth appearing, or by the time they turn one year old. You can always take your child when they're younger, too. After all, it's never too early to teach them about maintaining their oral health. Your dentist can give you helpful tips and information on how to keep their gums clean, feeding habits that can impact their mouth, teething, and baby bottle dental decay.
What Will Happen During Their First Visit?
Your little one's first appointment with their dentist for children in Fitchburg is primarily meant to get them comfortable with the idea of routine checkups and cleanings and teach them about their teeth. It usually lasts anywhere from 30 to 45 minutes and, depending on how old they are, it could include an examination of their entire mouth. If it's necessary, the dentist may also give their teeth a gentle cleaning and polishing.
Next, the dentist will show them how to properly clean their teeth at home by brushing and flossing. Typically, X-rays aren't taken of baby teeth because they fall out, but your dentist recommends them to see if there's a jammed tooth below the gums that could affect their permanent teeth. The first appointment is also a great time to ask any questions you may have as a parent, like whether they're getting enough fluoride at home.
How Can You Come Prepared?
Children can easily become fussy or antsy when they're expected to listen or sit, especially when they're exhausted. That's why it's best to schedule an appointment in the morning if it's possible. That way, your little one will be awake, attentive, and ready to learn new things.
Some parents believe that springing the appointment on them as a surprise may be the best way to get them to behave and keep them from fighting you about going. However, letting them know what to expect can make them more compliant and even get them excited. Explain to them why seeing the dentist and taking care of their teeth are important and help them look forward to the visit. Be sure not to set unrealistic expectations for them, though.
If you have any questions about the visit beforehand, don't hesitate to call your pediatric dentist. That way, you can be prepared and reduce the chances of any surprises popping up. With regular visits to their dentist from an early age, your child will be able to build healthy habits that keep their pearly whites looking great into adulthood.
About the Author
Dr. Derek Leung loves getting children excited about taking care of their teeth and gums. He understands that the first visit a little one has with a dentist is crucial, which is why he strives to make it positive, informative, and fun. He is a board-certified pediatric dentist and is committed to staying up-to-date with the latest advancements in his field by continuing his education. For questions or to schedule a routine appointment for your child, visit Simply Orthodontics & Pediatric Dentistry's website or call  978-424-4255.